The owner of Coin Force brand is a family owned company Solaron – manufacturer of metalwork including: pins. medals, badges and keychains.
The company was established in 2007, and has quickly gained the customers trust in Poland and Europe and has been supplying them with its products for many years.
The recipients of our services are institutional, government and military units, military groups, special services, corporations and private individuals.
We are delighted to join the group of your trusted suppliers. Using the latest diecasting and pressing technologies, and thanks to the implementation of an advanced three-dimensional modeling process, we are able to produce a high-quality challenge coin with attention to every detail. You can proudly present your piece of art by using our range of accessories and packaging.
At Coin Force, we make sure that our products are of the highest quality. Coins, medals, pins and badges made by us are solid and visually attractive. Discover all our advantages.
MOULD FREE
To meet the expectations of our customers, we do not charge additional fees for making the mould! You'll find out by ordering a free quote. Check our offer.
GRAPHIC SUPPORT
Send us your idea for Coin, we'll take care of the rest! We will prepare your files for the production process, and after accepting the final project, we will proceed to implementation.
UNIQUE DESIGN
We treat each order individually! By working with us you can be sure that your coin will be unique and produced in accordance with current standards!
FAST LEAD TIME
Production time is our strength! You no longer have to wait months for your order. The efficiency of our production line allows your coins to be processed within 14 business days.
HIGH QUALITY
Your order is divided into many stages. The quality controller checks whether individual production processes are carried out in accordance with our standards from mould design to the shipment.
MANY DESIGNS
We are a leader in the industry, as evidenced by hundreds of satisfied customers and thousands of coins made. We offer a wide range of finished with many of them you will see on our website.
THE BEST CHOOSE US TO COOPERATE
We make every product of our company based on a professional graphic design. Experienced employees with professional knowledge will design coins, medals, pins and badges tailored to the expectations and needs of even the most demanding customers. The decision to make the mould is made only after you accept the project, thanks to which we can reproduce all your ideas. The work of our professional designers guarantees that the end result will not be an unpleasant surprise for you. Customer satisfaction and the highest quality are our trademark.
Coin is a badge immortalizing outstanding achievements and results as well as symbolizing belonging to a certain unit. It is not a cross of recognition or an officially awarded medal. Coin is an informal proof of remembrance, brotherhood and recognition for distinguished people, handed by the unit commander.
Commemorative Coins were introduced not only by the army, but also by many other institutions and organizations of all kinds. This is due to the personal initiative of individual members who value permanent proof of belonging to a certain unit and emphasize their achievements.
To fulfill the expectations of our customers, we produce coins in over 15 colors of metal plating. In addition, we offer medals painted with enamel, characterized by high durability. In accordance with the individual design of each client, we make one or two-sided with colorful graphic elements.
The coin's edge is a very important part that gives it an unique character. We've got 6 different patterns
available.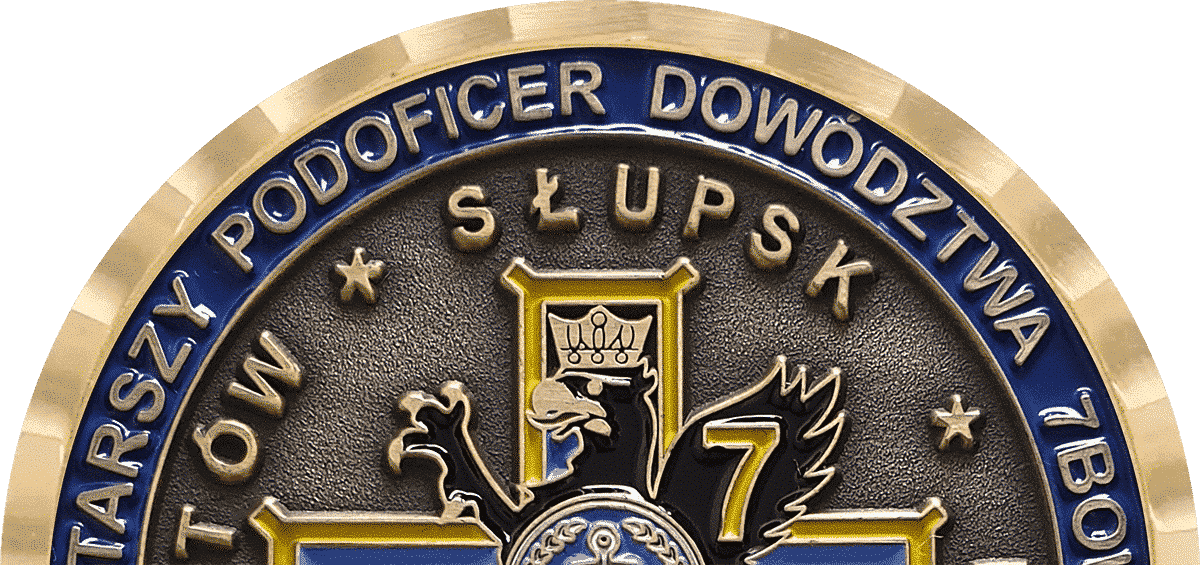 BEVEL EDGE
ROPE EDGE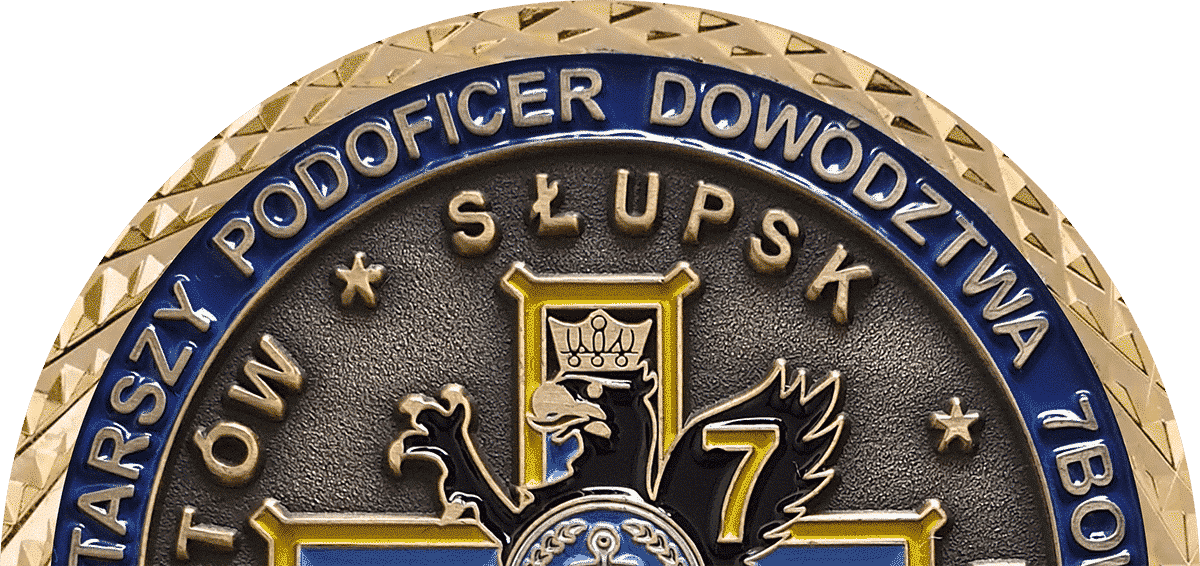 CROSS EDGE
FLAT EDGE
FLAT WAVE EDGE
Choose your own way to protect and take care of your coin's apperance.
FAKE LEATHER CASE PACKAGE
Elegant display packaging ,protects the coin very well against the external factors.
FLOCK CASE PACKAGE
Available in many colors and sizes. Closed from above with a plastic lid.
PLASTIC CLIP
Individually matched to the coin , due to which perfect protection is provided. Available in several sizes.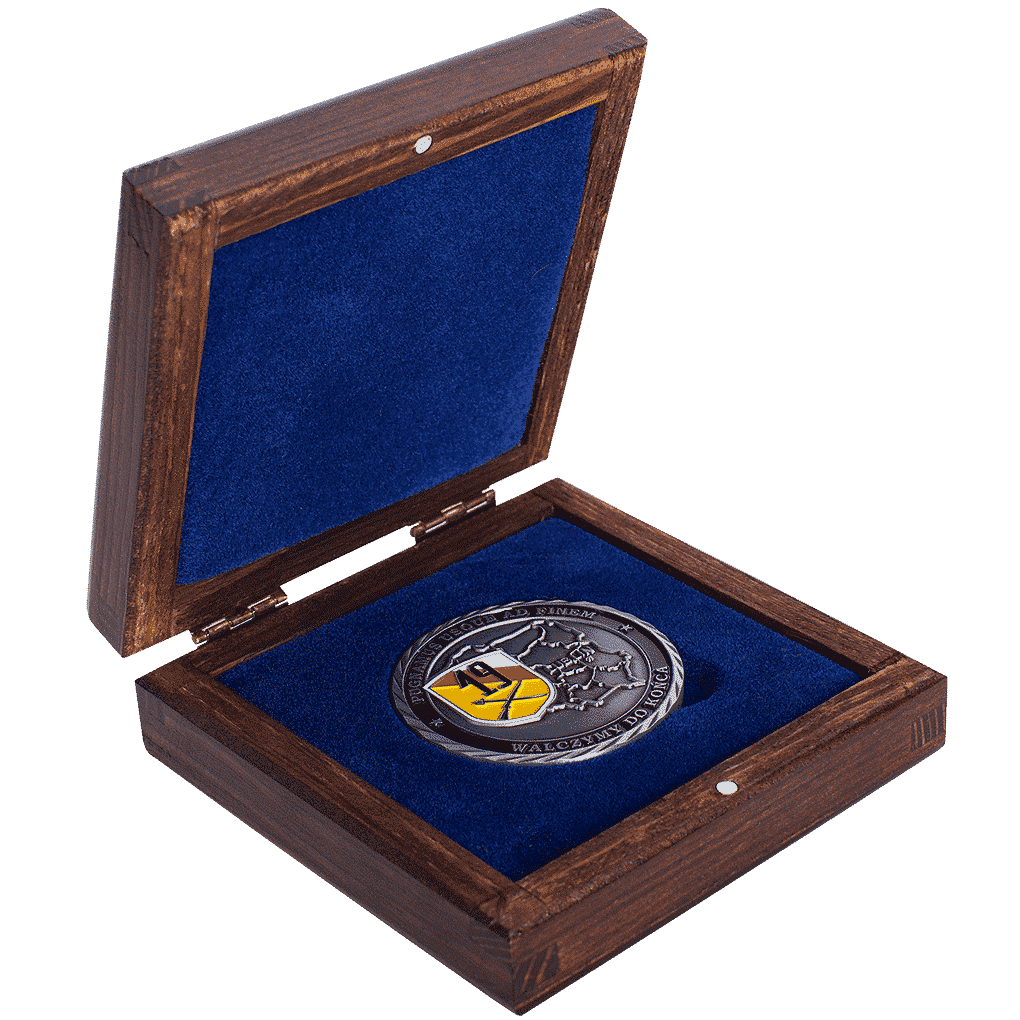 WOODEN CASE
Elegant, made of high quality wood, closed with a magnet.Flocked insertion available in many sizes and colors.
PVC BAG
Durable envelope made of transparent PVC. Economical solution for securing your coin.
Order your own Coin now
Are you ready to receive a free quotation and get to know about all possibilities of our company? Contact us!